10 Dietician-Approved Items To Put in a Healthy Holiday Gift Basket
DISCLAIMER
This blog does not intend to provide diagnosis... Read More

This blog does not intend to provide diagnosis, treatment, or medical advice. Read more. The content provided on this blog is for informational purposes only. Please consult with a physician or other healthcare professional regarding any medical or health-related diagnosis or treatment options. Information on this blog should not be considered as a substitute for advice from a healthcare professional. The claims made about specific products throughout this blog are not approved to diagnose, treat, cure, or prevent disease.
In this article: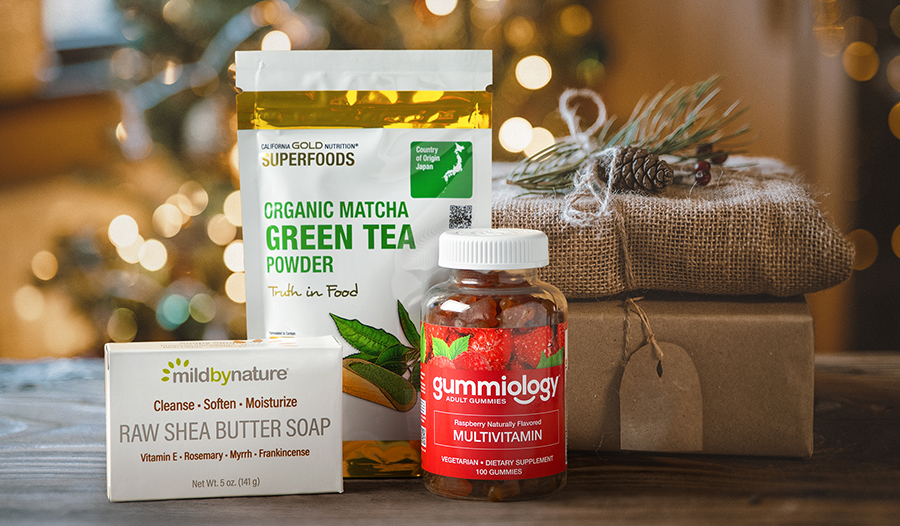 Holidays are often synonymous with gatherings, events, and gift-giving. Whether you need a gift for a loved one, are in search of a hostess gift for a holiday party you are attending, or are treating your coworkers to a holiday treat, I have just the thing for you!
Gift baskets are incredibly versatile and can truly be tailored to the person you are gifting. Compared to gifting one single item, creating a basket of several items allows for a beautiful presentation and provides a variety of items to help appeal to an array of preferences. From healthy food choices to home items, here are my top picks for what to include in your holiday gift baskets.
Teas
Herbal teas are a staple in all of the gift baskets I put together. They are generally universally enjoyed hot or cold, and you really cannot go wrong with an assortment of flavored teas. I generally choose herbal teas for gifts because they are caffeine-free; however, caffeinated teas also make great gifts. Many people enjoy a nice hot cup of tea as part of a soothing ritual, while others may use it for its health benefits. There are so many types of tea available on the market, and while many have their unique health properties, across the board tea provides several healthy attributes. Teas contain antioxidants, compounds that protect the cells in your body to keep them happy and healthy. Some teas, including chamomile, are also thought to help with relaxation and sleep. Not only is tea an enjoyable way to maintain your hydration, but it can also boost your health as well.
Baking Mixes
While you may not traditionally think of cookies as being healthy, that is not the case across the board. Many baking mixes are made with gluten-free ingredients, like almond flour, and organic ingredients, and will add a nice sweet treat to your gift basket. Additionally, when you provide someone with a baking mix, they have the ability to customize their mix to their preferences. For example, if a baked good calls for oil, one can swap the oil for equal parts of a healthier alternative, like unsweetened applesauce or mashed avocado. In addition to making the recipe in an even healthier fashion, baking mixes give the option to add toppings of choice, like chopped nuts, or include a variety of spices for unique flavors, like cinnamon and pumpkin pie spice.
Fine Cooking Oils
How delicious is the infused oil and fresh bread at your local Italian restaurant? While a fresh loaf of bread may not be the most practical item to add to a gift basket, you can certainly include a variety of nice oils to be used in cooking. Avocado oil is a wonderful option that provides heart-healthy fats and a mild flavor. This type of oil is fantastic for medium to high-heat cooking, like sautéing, and also works well for dipping and using as the base in homemade salad dressings. A more unique oil you may add to your gift basket is one that's infused with herbs. Similar to avocado oil, the oil base provides healthy unsaturated fats with the delicious flavor of herbs. This would be another great option for dipping with fresh bread or drizzling on cooked fish, meat, or vegetables.
Mixed Nuts
On the topic of healthy fats, nuts and seeds are also known for their healthy fat content. Mixed nuts or trail mix are a tasty way to add healthy fats to your gift basket. Dried fruits like raisins, dried cranberries, and dried blueberries in trail mix contribute to vitamin and mineral content, provide fiber and add a touch of sweetness to complement the nuts and seeds. I enjoy adding mixed nuts like this to gift baskets because they are so nice to have on hand, so most people will appreciate them in their basket. And, chances are if you are including this mix as part of a hostess gift basket, the host may put a mix like this to good use at their next event. When looking at fruit and nut mixes, keep an eye out for added sugar, especially if chocolate or candy pieces are included. While some added sugar is totally fine in food products, it is best to limit this as much as possible, and instead, focus on natural forms of sugar that occur in foods like fruit.
Storage Bags
Now, where will your giftee store their baked goods and nut mixes when they are on the go? We are all familiar with plastic food bags, however, you can offer a reusable alternative. Silicone snack bags can be used thousands of times, come in several different sizes to suit your needs, and are non-toxic and temperature-resistant. These are a perfect gift basket addition for someone who brings their lunch and snacks to work or travels frequently, and they are especially handy for those who have kids. Not only are these practical and versatile, but they are also environmentally friendly and reduce plastic use; a cause everyone can get behind.
Honey
Another versatile ingredient that can be used in a variety of ways is honey. While sweet by nature, honey is a great complement to savory foods as well. Drizzle over cheese, use in a homemade salad dressing, add to your morning tea, or enjoy over oatmeal. Honey makes a great gift because it can be used to suit an individuals' preference. Not only is honey delicious, but it also houses many healthful properties. High-quality honey is rich in antioxidants, those compounds that protect your cell health, and is thought to promote wound and burn healing. Whether enjoyed as part of a meal or snack or used as a healing treatment on a skin issue, honey is a luxurious item that earns its place in any gift basket.
Dark Chocolate
Another luxurious item to include in your gift basket is dark chocolate. Again, a food you may not consider to be healthful, dark chocolate can absolutely be part of a well-balanced, healthy diet. I generally like to aim for dark chocolate that has at least 60% cacao in it. Typically, the higher the percentage of cacao, the less sugar there is in the item. Cacao also naturally contains many health properties. Similar to tea and honey, cacao contains its own unique blend of antioxidants that can help to maintain your cellular health. Additional compounds in cocoa are thought to benefit heart health by reducing blood pressure and improving blood flow. Choose dark chocolate containing nuts like almonds for an additional boost of heart-healthy fats.
Candles
While food is usually my go-to in a gift basket, there are non-food items I frequently incorporate as well. One of the home goods I always make room for in baskets is candles. Knowing an individuals' scent preference can be challenging, so I usually select a mild scent, like lavender, that caters to different preferences. Adding a candle to a gift basket is a nice way to add variety to the gifts included and provide an item that compliments the home, not just the kitchen. Candles are a lovely way to create ambiance and make a space feel more welcoming and comforting through the use of scent and soft lighting.
Soap
Another gift basket item that can complement the home is a selection of nice hand soaps. Similar to candles, soaps in a gift basket add a nice touch to the home and will always come in handy for your giftee. Choosing an option that provides several different scents, like in a gift box, ensures your gift is a hit! I prefer a shea butter soap as it helps to promote skin moisture and appears to have some anti-inflammatory properties as well.
Supplements
With so many options available in the supplement category, there is surely something for everyone. In fact, the supplement industry is so diverse you can choose products based on specific needs, like supplements that aid in sleep, those that boost hair and skin health, multivitamins that cover all of the bases, and protein powders for those looking to support their exercise and muscle tissue. These are just some of the categories in which you can find a supplement to align with the needs of whoever is receiving your gift basket.
Summary
As you can see, it is simple to create a healthy basket using a combination of sensible food choices and a few home items to create a well-rounded and varied gift. When putting together your holiday gift basket, choose food items low in sugar, and options that can be made to an individuals' preferences and used in several different preparations. The addition of home items creates a gift that appeals to different interests and tastes and provides gifts for the entire home, and not just the kitchen. When choosing scented items for your gift basket, like candles, diffusers, and soap, ensure they are mild in scent and look for those with packaging that may complement your giftees décor. No matter the items you choose, your giftee is sure to appreciate your thoughtfulness in spreading holiday cheer!