3 Hot K-Beauty Trends To Know
DISCLAIMER
This blog does not intend to provide diagnosis... Read More

This blog does not intend to provide diagnosis, treatment, or medical advice. Read more. The content provided on this blog is for informational purposes only. Please consult with a physician or other healthcare professional regarding any medical or health-related diagnosis or treatment options. Information on this blog should not be considered as a substitute for advice from a healthcare professional. The claims made about specific products throughout this blog are not approved to diagnose, treat, cure, or prevent disease.
In this article: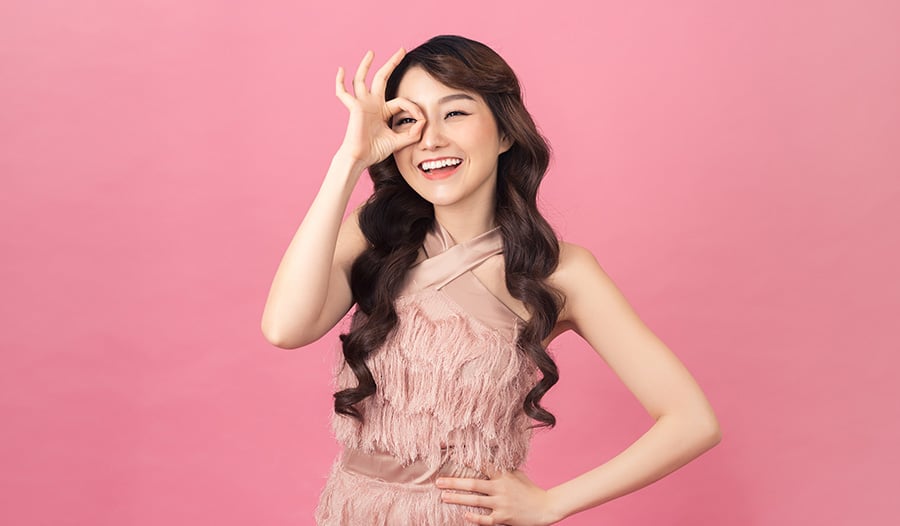 Every year it's interesting to read the major publications predicting what the next great K-beauty trends will be. Will snail mucin make a comeback? Is "glass skin" out and "mochi skin" in? What is the next "it" ingredient? But the bigger question is, are these "trends" truly reflective of the latest innovation and market shifts within the Korean skincare industry?
So to accurately gauge what's actually trending in K-beauty, we'll be looking at the following sources:
Hwahae

—One of the largest beauty apps that allow users to look up beauty product information as well as leave reviews.

GLOWPICK

—A leading beauty product review app and trend analyzer

Powder Room

—Korea's leading beauty community platform
All the above hold annual beauty awards where they select winning products based on aggregate data and, often, user votes. What better way to predict K-beauty trends than to see what Koreans are actually using and loving?
Trend #1: "Hands-Free" Formats Like Balms and Sticks
Yes: technically, you still need to use your hand to apply the product, but it never actually makes direct contact with your fingers. According to GLOWPICK's analysis, the pandemic has seen an increased user interest in products that minimize direct-hand contact. Plus, you get the benefit of easy application in a travel-friendly packaging!
We're already seeing a lot of multipurpose lip and cheek balms, but now there's a rise in other types of skincare products, too, especially sunscreen sticks and serum sticks. Here are some great options:
Reviva Labs Vitamin E Stick
At first glance, the Reviva Labs Vitamin E Stick looks like a lip balm and will work wonderfully on your lips, but it's also formulated to be safe around the eyes or anywhere on your face. It contains a moisturizing blend of mango butter and olive oil, plus soothing allantoin and of course, the antioxidant vitamin E!
Tony Moly Panda's Dream Rose Oil Moisture Stick
Think of Tony Moly Panda's Dream Rose Oil Moisture Stick as a facial oil on the go, but much less sloppy. In addition to rose essential oil, this cute stick also contains some great moisturizing oils like olive, jojoba, argan, and macadamia. Use this to touch up on dry spots on your face, your cuticles, or anywhere else that needs extra moisture!
The Saem Iceland Hydrating Eye Stick
The skin around our eyes is more prone to dryness than anywhere else on our face, so it's important we keep this area well moisturized. The Saem Iceland Hydrating Eye Stick contains collagen and amino acids which all help with hydration, plus it offers a nice cooling effect that can help with depuffing in the morning! The balm itself has a good slip, so don't worry about it tugging on your delicate skin.
Physicians Formula Natural Defense Multicolor Stick
While there are a lot of all-over color stick options available, I'm a fan of the Physicians Formula Natural Defense Multicolor Stick for the added SPF 20, blue light protection, and pollution protection. The shade Natural Rose is a medium warm pink that will look beautiful on all skin tones! Despite gliding on smoothly, it won't leave an oily finish, and the color will last all day.
Trend #2: Mild pH Products
Powder Room noticed that consumer interest in low or mild pH products has been on the rise since 2021, so we can expect to see more K-beauty brands switch from high pH products like foaming cleansers to something more moisture-barrier friendly.
This one comes as no surprise, as experts have been preaching the importance of using products, especially facial cleansers, that match the pH environment of our skin, which is typically around 4.5–5.5. Anything higher can disrupt the protective barrier and lead to skin issues like dryness or acne. Here are some barrier-friendly options for your consideration:
Idealove A Dream Come True Low pH Mystical Cleansing Gel
There are a few things I look for in cleansers: skin-friendly pH levels, free of harsh surfactants, and affordability. The Idealove A Dream Come True Low pH Mystical Cleansing Gel checks all three boxes. It has a pH level of 5.5–5.9, which, while a tiny bit higher than our skin's, is still within a good range. It's also sulfate-free and contains some BHA for gentle exfoliation, making this a great option for combo or oily skin types. Lastly, the price is just right.
Cosrx Low pH Good Morning Gel Cleanser
If you have blemish-prone skin, the Cosrx Low pH Good Morning Gel Cleanser offers similar benefits to the Idealove one above, but with the additional tea tree oil for added anti-acne and anti-inflammatory benefits. But thanks to the gentle nature of this cleanser, it will work with all skin types, from dry to oily.
Pyunkang Yul Low pH Pore Deep Cleansing Foam
If you miss the rich lather of foaming cleansers, then the Pyunkang Yul Low pH Pore Deep Cleansing Foam is a mild pH option that won't disappoint. With a thick creamy texture, it lathers up beautifully, leaving your skin clean and refreshed but never stripped. Pyunkang Yul is known for its Eastern-medicine-inspired formula using minimal ingredients, so no fluff like colorants or fragrances. This makes the brand a great option for sensitive skin folks.
Cosrx AHA/BHA Clarifying Treatment Toner
If you can't bear to part with your high pH cleanser, another great way to get your skin calibrated back to the healthy pH level is to follow up cleansing with a mild pH toner. Cosrx has a great selection containing different types of acids, and the Cosrx AHA/BHA Clarifying Treatment Toner features both low-level glycolic acid and betaine salicylate to gently exfoliate at the surface level and within our pores
Some By Mi AHA/BHA/PHA 30 Days Miracle Truecica Clear Pad
These aren't your typical exfoliating pads that leave your skin red and tingling. Similar to the Cosrx, the acids in the Some By Mi AHA/BHA/PHA 30 Days Miracle Truecica Clear Pad are included at low levels and further supported by skin-soothing ingredients like artemisia, centella asiatica, and heart-leaf extracts. The pad format also makes it easy to apply in a pinch!
Hanskin Real Complexion Hyaluron Exfoliating AHA Treatment
For the exfoliating pros who are used to stronger acids, the Hanskin Real Complexion Hyaluron Exfoliating AHA Treatment will deliver more of a punch with their 10% AHA blend. Don't let the strength scare you, though, because in typical K-beauty fashion, the formula is complemented by a blend of hydrating ingredients like panthenol and six types of hyaluronic acid, making it gentle on the skin.
Trend #3: "Clean" Beauty
While there is no official definition for what clean beauty is exactly, the general consensus is that the ingredients don't include parabens, colorants, phthalates, and artificial fragrances. However, in recent years the definition of "clean" has expanded beyond just ingredients to the sourcing and packaging and their impact on the environment.
GLOWPICK included a Clean Beauty category in their awards for the first time, while Hwahae saw products in this category dominate their 2021 Trends Award Shopping Category. Lotte analyzed their sales data and considered this one of seven major trends as well.
Here are some of my favorite rising clean beauty brands:
Isntree
A brand that is focused on using safe and effective ingredients, Isntree goes beyond the standard expectations of "clean," and so they exclude 100 ingredients that they've deemed harmful to the skin and environment. They're also focused on sustainability and use recycled paper and soy ink for their packaging.
Their Hyaluronic Acid Water Essence boasts 8 forms of hyaluronic acid in a lightweight formula, while their Green Tea Fresh Toner features green tea extract from Jeju Island along with skin soothing centella asiatica extract.
I'm From
Deriving its key ingredients from nature, I'm From promises ingredient transparency, honest materials, and no harmful additives. There's never any second-guessing how much of the key ingredient is actually featured, nor where it's sourced from. They are also cruelty-free!
A must-try product is their Honey Mask, featuring 38.7% honey sourced from Korea; it instantly moisturizes and nourishes the skin and smells delicious too!
For sensitive, easily irritated skin, the single-ingredient Mugwort Essence will calm any redness while providing some light hydration.
Purito
Dedicated to the use of safe and effective ingredients, Purito aims to create minimal formulas that are suitable for even the most sensitive skin while still remaining affordable. They're also committed to sustainability by using 100% biodegradable packaging and reducing plastic use.
For acne-prone skin, the All Care Recovery Cica-Aid patches will help gently heal your blemishes while minimizing hyperpigmentation.
Their Fermented Complex 94 Boosting Essence is a wonderful vegan alternative to other fermented essences, plus it boasts great ingredients like green tea extract and niacinamide as well!
The Beauty Industry Lately
Trends are ultimately a reflection of how consumer preferences change with time, and it's interesting to see how current events of the last few years, like the pandemic and climate change, have impacted the beauty industry.
Are these trends in line with what you expect from K beauty? Which specific trend are you most looking forward to?