Why You're Going to Be Seeing Hawthorn Everywhere in 2022
DISCLAIMER
This blog has not been approved by your local health department and is not intended to provide diagnosis, treatment, or medical advice. Read More

This blog has not been approved by your local health department and is not intended to provide diagnosis, treatment, or medical advice. The content provided on this blog is for informational purposes only. Please consult with a physician or other healthcare professional regarding any medical or health-related diagnosis or treatment options. Information on this blog should not be considered as a substitute for advice from a healthcare professional. The claims made about specific products throughout this blog are not approved to diagnose, treat, cure, or prevent disease.
In this article: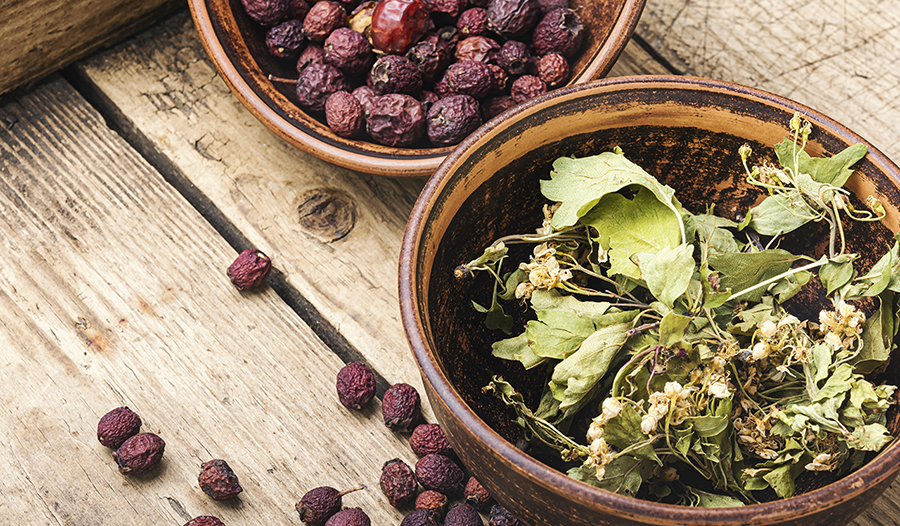 What Is Hawthorn?
Hawthorn, a member of the rose family, is a thorny, flowering tree or shrub that produces small clusters of red, white, or pink flowers. There are a variety of hawthorn plant species; the most common one has the scientific name Crataegus rhipidophylla.
Now if you're not looking for a new bush for your garden or some flowers for a bouquet, you may wonder why you will be seeing hawthorn everywhere in 2022.
It might surprise you to know the leaves, flowers, berries, stems, and even the bark of the plant are often used in herbal medicine for positive effects on heart health, digestion, and more. This ancient medicinal herb is widely available in many forms as a dietary supplement. There are many healthful and practical uses of hawthorn for you to consider.
Heart Health
Hawthorn is the oldest known medicinal plant in European medicine. Dioscorides, an ancient Greek physician often referred to as "The Father of Pharmacology," described hawthorn's actions on the heart in the first century.
According to Traditional Chinese Medicine (TCM), hawthorn berry is a heart tonic, and recent research shows its cardioprotective characteristics.1
The phytonutrients in hawthorn berries can have an antioxidant effect to help protect your body, including your heart. They can strengthen blood vessel walls, increase blood flow, and boost your exercise tolerance.2
Memorial Sloan Kettering Cancer Center reports that scientists believe hawthorn causes the smooth muscle lining of the heart's coronary arteries to dilate. This action benefits the heart by increasing blood flow to it.
Hawthorn may also increase heart rate, nerve transmission, heart muscle contraction, and heart muscle irritability.
High Blood Pressure
Studies suggest hawthorn may help reduce high blood pressure.
A study published in 2002 investigated the potential use of hawthorn extract and magnesium supplements, individually and in combination, for lowering blood pressure.6
After ten weeks, 19 people (out of 38 study volunteers) who took hawthorn had a greater reduction in their resting diastolic pressure (the lower number of the blood pressure ratio) compared to the other study participants.
Another study looked at hawthorn's effect on high blood pressure in people with type 2 diabetes who were taking prescription medicine.7 Researchers divided a group of 79 patients with diabetes into two groups—one taking hawthorn extract daily for 16 weeks and the other group taking a placebo.
The study participants who took hawthorn had much lower diastolic blood pressure readings than those in the placebo group.
Other Heart-Related Conditions
Research has revealed that hawthorn extract may improve blood cholesterol levels because of its flavonoid and pectin content. (Pectin is a type of fiber involved in cholesterol metabolism.)
When your cholesterol levels are out of balance, especially in the case of high triglycerides and low HDL (good) cholesterol, you can develop atherosclerosis—plaque buildup in your blood vessels that can lead to hardening and narrowing of your arteries.
Preliminary animal studies suggest hawthorn may help reduce levels of fat in the blood, which includes cholesterol, and aid in the prevention of atherosclerosis.
A six-week study showed rats fed hawthorn berry supplements had significantly reduced levels of fasting triglycerides and LDL (bad) cholesterol.

8

A six-month study involving 64 people with atherosclerosis found that taking a combination of hawthorn extract and a Chinese herb extract daily reduced the thickness of harmful plaque buildup in the carotid artery.

9
More research is needed to confirm the benefits in humans.
Anxiety
Practitioners of traditional medicine have used hawthorn for certain psychological conditions, such as stress, anxiety, and depression.
Researchers who were investigating the effect of hawthorn and magnesium on blood pressure found that those taking hawthorn experienced more anxiety reduction than other test groups.6
Meanwhile, a 2004 study included 264 people with anxiety who were given a formation of hawthorn extract, magnesium, and California poppy flower.10 Study participants with mild-to-moderate anxiety showed a considerable drop in anxiety levels when compared to placebo. However, it's important to note that this study did not specifically investigate the role played by hawthorn alone.
Digestion
A critical review published in Nutrients in 2015 found hawthorn—its berries, leaves, and flowers—was beneficial in the treatment of gastrointestinal diseases and other digestive issues.11
The fiber contained in hawthorn berries acts as a prebiotic. So, it promotes a healthy digestive system because prebiotics essentially serve as food for probiotics. Considered the "good bacteria" of your gut, probiotics help maintain a healthy balance of microorganisms in your digestive tract.
Additionally, animal studies suggest that hawthorn berries can increase the activity of enzymes needed to digest fatty and protein-rich foods.12 Other animal research finds that hawthorn extract can speed the transit time of food in your digestive system.13
Anti-inflammatory Properties
Research on mice with liver disease demonstrated that hawthorn berry extract markedly inhibited the release of inflammatory compounds, decreasing liver inflammation and injury.14
In another study, the effect of vitexin on mice with respiratory conditions was examined.15 Vitexin is a compound found in hawthorn leaves. Researchers found that vitexin-treated mice had fewer white blood cells responding to inflammation and produced fewer proteins that trigger inflammation.
Such findings from animal and other laboratory studies indicate that anti-inflammatory benefits of hawthorn supplementation may exist for humans as well.
Combats Free Radicals
The body produces free radicals in response to harmful elements in the environment—like cigarette smoke, air pollution, or ultraviolet rays. However, free radicals are also created as a byproduct of normal processes occurring in your cells.
A scientific literature review published in 2015 Nutrients noted hawthorn berries contain substantial amounts of polyphenols.16 These antioxidant compounds help neutralize free radicals. Researchers often link the action of free radicals in the body to the process of aging as well as to the development of cancer and chronic disease.
Culinary Uses
Hawthorn can be eaten raw or cooked. In Europe and North America, it is commonly preserved in jams or jellies. Hawthorn has a strong flavor that preserves well.
In Asian cultures, hawthorn is a popular ingredient in candies and beverages. Its sweet and tart flavor makes it a great fit for such uses.
Nutrition
Hawthorn contains substantial amounts of B-vitamins (including folic acid) along with rutin, catechins, saponins, vitexin, and various anthocyanidins that can exert an antioxidant effect on the body.
Among its unique blend of vitamins, minerals, and organic compounds, hawthorn berry contains:
Vitamin B1

Vitamin B2

Caffeic acid

Acetylcholine

Chlorogenic acid
Dosage and Preparation
Hawthorn extract is available for purchase in commercial preparations, such as tablets, capsules, and tinctures. Other hawthorn products available in the U.S. include leaves, flowers, and berries.
Dosages studied range from 160 to 1,800 milligrams per day, divided into two or three doses for a duration of 3 to 24 weeks. While research has not yet determined the most effective dosage, higher doses seem to have greater therapeutic effectiveness.
Since hawthorn takes some time to exert its effects, you may need a trial of at least four to eight weeks before determining whether it's working for you.
Possible Side Effects
Hawthorn is generally believed to be safe and is tolerated well by most people who take a recommended dose for up to 16 weeks. The most common adverse effects include:
Vertigo and dizziness

Nausea and other intestinal symptoms

Fatigue

Sweating

Headache

Palpitations

Nosebleeds

Agitation

Mood swings

Shortness of breath

Severe allergic reactions
And at high doses, hawthorn can cause sedation and very low blood pressure.
Do not take hawthorn if you know you are hypersensitive to Crataegus products.
Its use is not recommended during pregnancy because it can potentially stimulate uterine contractions. Since hawthorn has not been adequately studied during lactation or among youth, it is not recommended for children or breastfeeding mothers.
While hawthorn has demonstrated cardiotonic effects, it's important to talk with your health practitioner before trying it for this purpose, especially if you have a heart condition.
Hawthorn supplements can interact with medications like beta-blockers, calcium channel blockers, or other heart, cholesterol, and blood pressure drugs. Since hawthorn can lower blood pressure, your blood pressure could drop too low if you combine hawthorn with your blood pressure medication. Those who are taking blood thinners should be cautious as hawthorn may increase their risk of bleeding.
References: