Which Exfoliation Method Is Right for Your Skin Type?
DISCLAIMER
This blog does not intend to provide diagnosis... Read More

This blog does not intend to provide diagnosis, treatment, or medical advice. Read more. The content provided on this blog is for informational purposes only. Please consult with a physician or other healthcare professional regarding any medical or health-related diagnosis or treatment options. Information on this blog should not be considered as a substitute for advice from a healthcare professional. The claims made about specific products throughout this blog are not approved to diagnose, treat, cure, or prevent disease.
In this article: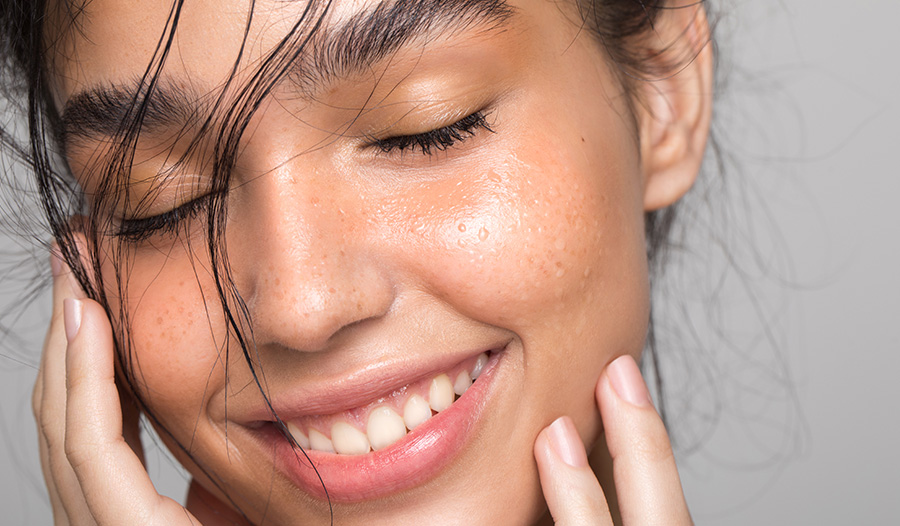 Regardless of your skin type and concerns, exfoliation can be extremely beneficial. Adding an exfoliant into your skincare routine can help prevent acne, promote skin cell turnover, and improve overall skin tone and texture. Regular and proper exfoliation allows moisturizers, serums, and oils to absorb deeper into your skin, ultimately boosting the effectiveness of your routine. To determine the best exfoliant for your skin, it is best to look at your skin type, your concerns, and what you hope to achieve.
What is Chemical Exfoliation?
Exfoliants come in two different forms: chemical and physical. Chemical exfoliants penetrate the skin more deeply and can help brighten and improve skin texture and tone. The most common chemical exfoliants include Alpha Hydroxy Acids (AHAs), Beta Hydroxy Acids (BHAs), and enzyme exfoliants.
Common AHAs such as lactic acid and glycolic acid are best for dry skin since they are water-soluble. If acne or oily skin is a priority, BHAs will be better suited for you. A common BHA, salicylic acid, has anti-inflammatory and anti-bacterial properties, making it a great choice for acne-prone skin. Enzyme exfoliants are gentler and will be best suited for sensitive skin. Made from fruit enzymes like papain and bromelain, these work at breaking down skin proteins into smaller particles.
It is important to introduce chemical exfoliants into your routine slowly and not overdo it. While they have many benefits, they can make your skin more sensitive to sun damage, redness, and dryness, so always use sunscreen and keep your skin hydrated.
What is Physical Exfoliation?
Physical exfoliators are surface-level and do not penetrate as deeply as chemical exfoliants. These manually remove skin cells with simple tools like washcloths and brushes, or also with a skin scrub that contains exfoliating particles. Exfoliating tools and brushes incorporate vibration and sonic pulses, which can help achieve a deep cleanse.
Professional exfoliation can also be achieved at a dermatologist or esthetician's office by using methods such as dermaplaning and microdermabrasion. Again, introduce physical exfoliants into your routine slowly and be gentle. Exfoliating too often can potentially increase oil production and cause damage to the skin by causing micro-tears.
By this point, you have hopefully determined what type of exfoliant would be best for your skin type. Today I'm listing some top-rated products organized by specific skin type and concerns.
Chemical Exfoliators To Try
E.L.F. Supertone Toner
The E.L.F. Supertone Toner is a gentle chemical exfoliant powered by glycolic acid to help remove dead skin cells and combat dull, lackluster skin. This low pH toner will help tone, balance, and clear skin. While it is not recommended for sensitive skin, other skin types such as normal, dry, oily, and combination are recommended to try this! For under $10, this is one of the most affordable chemical exfoliant options as well.
Cosrx BHA Blackhead Power Liquid
While you can't get rid of pores completely, you can certainly use products to make them appear smaller! With 4% BHA and niacinamide, the Cosrx BHA Blackhead Power Liquid exfoliator helps to control oil by reducing excess sebum and effectively penetrates the skin to decrease early acne and blackheads. This product is recommended for mid-level acid users and is best for oily, acne-prone skin. I love that this exfoliant contains a natural BHA ingredient—willow bark water—to maximize exfoliating and clearing benefits without irritation.
InstaNatural Exfoliating Glycolic Beauty Mask
One of my favorite ways to exfoliate is by using a mask! The InstaNatural Exfoliating Glycolic Beauty Mask provides dual-action exfoliation to hydrate and renew. Glycolic acid is combined with quartz crystals to provide both physical and chemical exfoliation benefits, while pumpkin, vitamin C and turmeric refine and brighten for skin that appears softer, smoother, and more radiant. This mask can be used by all skin types and is perfect if you are concerned with enlarged pores, hyperpigmentation, and lines and wrinkles. I have personally used this product and absolutely love the pumpkin scent!
Mad Hippie AHA Exfoliating Peel
With sixteen actives, such as peptides and glycolic and lactic acids, the Mad Hippie AHA Exfoliating Peel is full of powerful ingredients to make you glow! Glycolic acid gently exfoliates and softens the skin, while lactic acid will help reduce the appearance of wrinkles and discoloration. Peptides work to moisturize, reduce signs of aging, and protect the skin barrier, making this a gentle exfoliant for all skin types.
Isntree Clear Skin BHA Toner
Oily, combination, sensitive, and acne-prone? This one's for you! The Isntree Clear Skin BHA Toner helps to control sebum by removing dead skin cells, skin impurities, and blackheads for clear skin. This mild and hypoallergenic exfoliant is formulated with salix alba (willow) bark extract and seaweed extract complex to soothe sensitive skin, nourish, and purify.
Cosrx AHA/BHA Clarifying Treatment Toner
With a low pH formula as well as purifying botanical ingredients, the Cosrx AHA/BHA Clarifying Treatment Toner works to refresh, soothe, and soften skin. Formulated with both BHAs and AHAs and only 11 ingredients, this toner works to improve skin texture, increase vitality, and control pores all in one step! This can be used by all skin types as it exfoliates smoothly, relieves irritation, and moisturizes the skin.
Some By Mi, AHA BHA PHA 30 Days Miracle Toner
The Some By Me AHA BHA PHA 30 Days Miracle Toner is formulated with skin-friendly ingredients for even the most sensitive skin! Formulated with AHAs, BHAs, PHAs, 2% niacinamide, and 10,000 PPM real tea tree, this mild toner has completed a skin irritation and non-comedogenic test, making it suitable for all skin types and acne-prone skin. AHA, BHA, and PHA work to eliminate dead skin cells and remove sebum and impurities to help control the oil-moisture balance. Tea tree leaf extract quickly soothes the skin and also helps to control excess sebum.
Physical Exfoliators To Try
Acure Brightening Facial Scrub
Looking for an affordable physical exfoliant? Try the Acure Brightening Facial Scrub! Formulated with sea kelp, lemon peel, French green clay, and Madonna lily, this scrub is filled with super-nutrients to help soften, detoxify, cleanse, and brighten. If your goal is to have a brighter appearance and you believe a physical exfoliant would be best suited for you, then try out this refreshing scrub for under $10!
Azélique Age Refining Skin Polish
Want to enjoy a spa-quality microdermabrasion session in the privacy of your own home? Azélique Age Refining Skin Polish has you covered! Made with biodegradable polishing agents, this exfoliant gently and effectively sloughs away dull dead skin cells, and deep clean pores, and helps to correct environmental damage. This is formulated with a synergistic blend of nutraceuticals and botanical extracts designed to help diminish existing skin damage while helping to minimize further oxidative damage. It is ideal for those with fine lines, wrinkles, acne, hyperpigmentation, and dullness who want to achieve smoother, softer, and more even-toned skin.
Olay Regenerist Advanced Anti-Aging Facial Cleansing Brush
If you have determined that you really need a deep cleanse, it is time to elevate your skincare routine with the Olay Regenerist Advanced Anti-Aging Facial Cleansing Brush! This 2-speed facial brush boosts the power of your cleanser by deeply cleansing off hard-to-remove makeup, oils, and debris. Its gentle brush head gently exfoliates your skin in just 60 seconds, effectively preparing your skin for the rest of your routine. Your skin will instantly feel cleaner and refreshed and over time, it will help improve skin texture and tone.
Listen To Your Skin When It Comes To Exfoliation
Whatever your skin type, there is an exfoliation method that can work for you. The trick is to start slow, listen to your skin and pull back if it feels like it's too much. Use moisturizers that are nourishing to build up your skin barrier if you feel like you have over-exfoliated. Enjoy the benefits of high cell turnover!